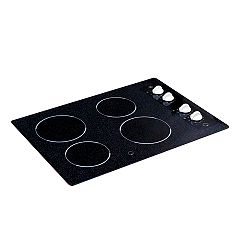 Something fell down on the glass top and now the glass is cracked or in pieces. Happens more often than you may think.
Two options come to mind:
1) Replace the whole cook top – It's only been a few years since you bought it and it wasn't cheap. $400? $750? Over a grand? Ouch!
2) Replace the glass top itself – Some people may be scared of this option. Where do I get one? How do I replace it? Seems kinda difficult… Not really. Replacing the top is easier than you may think. First, disconnect the power to the cooktop, range, whatever the appliance is. Then…
If it's a range, there is usually a couple of screws that hold the front of the top down, remove the screws, lift the front of the top and pull it out from the back hinges. Install the new top, make sure there are no loose wiring.
If it's a cooktop, you may have to lift the cooktop out of the cabinet to replace the glass. Ha! Where is the promised simplicity?! Ok, ok, it's a little more difficult than replacing a top on a range, but still pretty managable. After making sure that the power to the cooktop has been turned off, open the cabinet and look up. There should be a couple of brackets that secure the cooktop. Remove the brackets, carefully lift the top and set it on the counter top (put a towel on the counter top first). It gets easier… replace the glass top (make sure there is no loose or exposed wiring), set the cooktop back in the counter, secure it with brackets as was before, and double check your work.
For some reason, most appliance parts suppliers look at replacement glass tops as huge money makers, pricing them at double or even triple the regular price. Why pay more? Check with AppliancePartsPros.com. You might save $50 or sometimes as much as $250 on a new glass top. They won't even charge you extra for shipping unlike others, even though it's a bulky item. Enter your model number here (or use the search box at the top of this page), you'll see the price, availability and color options for the new glass top.